ROAD TRIP!!
So for my mid-semester break, I went on a somewhat last minute thrown together road trip from Cairns to Brisbane, with 8 people. The general plan was get from Cairns to Brisbane in a week, stopping off in a few places and seeing various places. So off we went on Easter Sunday morning, bright and early! We got to the first hostel and it was awesome! Gilligans Backpackers had a pool and bar and all...
AAAAAAAAND they're off!!!!
So on Saturday, I was invited by a friend to go to the Horse Races at Royal Randwick Racecourse. I was talking it over with my flat-mate and she informed me of the dress code of the the Races, and she lent me a dress. Was pretty excited, but wasn't sure about the getting to the races in the middle of the day all dressed up, not knowing what to expect I went to see where the day would take...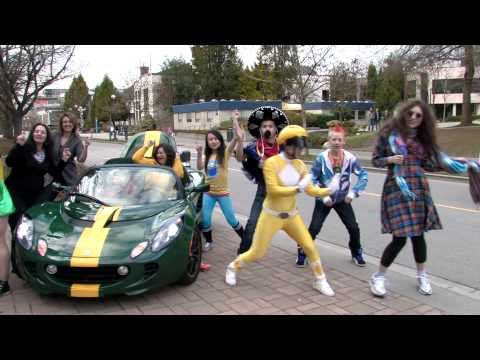 Stuck in my head..
"A smile costs nothing but gives much.  It enriches those who receive without..."
– Author Unknown
Lovely beach day..
I finally went to the beach after a lovely nap yesterday. It was sunny and warm all day… and as soon as i got to the beach and lay down i looked to my right. this is what i saw: To the left was what i had hoped for… but that was moving away from me :(
Think before you speak.
Calvin: Sometimes when I'm talking, my words can't keep up with my thoughts. I wonder why we think faster than we can speak.
Hobbes: Probably so we can think twice.
YouTube Symphony 2011
Saturday the 19th of March was planned to spend the day doing nothing but Uni work. It turned out quite differently. I got a message from a friend who had ordered a bunch of tickets for the YouTube Orchestra Symphony an had some spares. I decided an adventure to the Opera House.. Seeing a concert inside the Opera House.. Why not?? The tickets were max 25 bucks.. It's a good opportunity! We got...
"Youth is a circumstance you can't do anything about. The trick is to grow..."
– Frank Lloyd Wright
Just keep swimming, just keep swimming
My friend Paul drug me out to the aquarium the other day.. I forgot how awesome aquariums are and how much of a child I am given the opportunity.. Our trip inside started off with a platypus that was flipping and moving around in the water.. Followed by the discovery of epic Lego statues! There was a sailor, a penguin, a shark, king triton, a few murals, and a few more.. I was quite amazed. ...
Something Stumble helped me find. I like it- helps... →
Blue Mountains! Blue Mountains! Blue Mountains!
(the chant type title was a shout out o the Disneyland crew of 2007 :-p) Today (sunday the 14th) I went on a relatively spontaneous trip to the blue mountains. It was spontaneous because I decided that I'm going last night while talking to a bunch of friends who were going. All the exchange kids keep going on trips around exploring, and there was a plan to meet at central at 8 am.. It was a...
Flea Market
So UNSW has a Flea Market every Wednesday. Pretty cool if I do say so myself. There were a bunch of stands around the main gate of UNSW with all sorts of things being sold as well as some musicians playing. There were cheap jackets, shorts, skirts, jewellery, food, and more. It wasn't too big, and I was rushing off to get to class, but I think it is a pretty good idea. I've seen...
Relaxing Sunday Morning
On Sunday, I managed to claim a spot on a friend of a friend's boat. It was a great way to wind down and relax a bit after the hectic weekend of house parties and Mardi GRAS. Alex picked me up and took me to the harbor and we jumped on the boat and drove.. And drove.. Past the opera house, and the bridge, and all sorts of sail boats, and ferries. It was really pretty. We anchored in at some beach...
Mardi GRAS
What a crazy event! I haven't seen anything like it.. But it was so much fun! Just about everyone dressed up in the most random costumes and Bright colors.. I wish I had my camera with me. I'll try to find some photos somewhere.. We managed to find a spot and watch a fair bit of the parade of all sorts of pride groups and clubs. Every group imaginable was there.. And the streets were packed! If...
First few days of Uni
Not particularly eventful.. No labs.. So I have 5 hours less of uni this week.. So far it seems pretty good, but I'm thinking about what classes to keep and if I want to switch out of any of them.. At this point I have to decide by tomorrow, so I think I'm gonna stay in the classes I have. Its right before my last class of the week and it's noon on a thursday. I am really...
Books...
Ouch…. Never fun to pay for them :(
It has been brought to my attention...
That I have been in Sydney for a month. Wow. Time flies. It definatley doesn't seem like I have been gone for that long. I have been having a great time and can't wait to see where the next months will take me. So far I have lived through the hottest week in Sydney, explored all sorts of beaches, jumped out of a plane, advnetured around the city, gotten to know my new campus, and...
Wakeboardin Kangaroos!
I went wakeboarding for the first time in a while.. It was so much fun! I went down to the Hawkesbury River with Jenny, and Paul from the water ski club drove, boat in tow. Jenny had to convince me to go.. But I'm really happy she did. There was a small group of mostly older people out in our group, but they were amazing!! I haven't seen such awesome wakeboarding and monoskiing ever....